The Stranger the Better – a new one act opera I wrote last weekend with librettist Vynnie Meli for The Atlanta Opera 24-hour Opera Project picked up the AUDIENCE FAVORITE AWARD at the premiere.
Congratulations and thank you to director Kristin Kenning, music director Andrew Bayles, and singers Antoine Griggs, Will Green, Julie Trammel and Laurie Marie Tossing who learned, staged and performed the piece in a single day!
Find out more about the new piece here!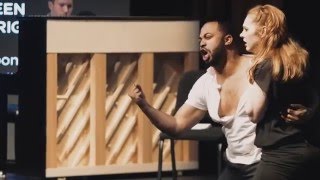 The Atlanta Opera - The 24-Hour Opera Project (April 2, 2016)
Semi-spontaneous. Dramatic. Hilarious. Unapologetically opera. The 24-Hour Opera Project®, invented in 2010 by The Atlanta Opera, set the industry standard for semi-spontaneous operatic productions. Since its inception, the Project has generated nationwide buzz and drawn talent from all over the country. On Friday, April 1, five teams of composers and lyricists from across the country were given 12 hours to write an opera, based on a Shakespearean theme that served as their inspiration. On Saturday, April 2, The compositions were then be delivered to stage directors who had 12 hours to stage, rehearse and then present their opera at SCADShow later that evening. A panel of esteemed local judges selected the Judges winner, while audience members voted for the Audience Choice award. Judges Winner: Purple Team/ Audience Choice Winner: Blue Team with "The Stranger the Better"